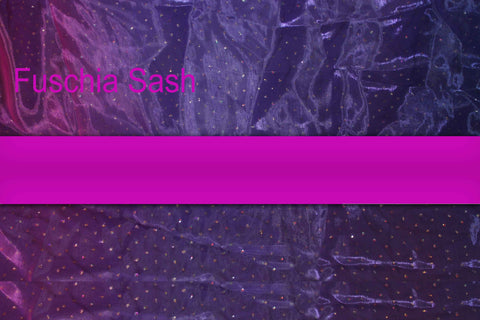 Fuschia - Trimmed Custom Embroidered Sash (4-5 Weeks Production Time [Rush Options Available])
Details
Colors in images for Font and Sash Color do not truly represent actual color.  They are shown to see a rough estimate of what your sash will look like.
Trimmed Custom Embroidered Sash:
Length Size (Varies according to size selected)
Choose from a variety of colors and fonts.
Our pageant sashes are made with a beautiful sturdy satin fabric.
The wording is beautifully embroidered with high quality thread.
Youth - 52" - Usually for individuals under the age of 6.
Pre-Teen - 60" - Usually for individuals ages 7-10.
Regular - 72" - Average sized teen or adult female
Extra Long 80" - Average size teen or adult male - Plus size female
**If you order a medium or small sash and MAX OUT on lettering for the main line, THIS WILL DECREASE THE SIZE OF YOUR FONT.  To avoid shrinking lettering for the title, try adding some of the title as shoulder text and/or hip text.
Luster Gold and Luster Silver options for wording are not metallic.
*Production time  is normally 4-5 weeks (+2-3 business days ship time)
**ALSO, PLEASE BE SURE TO FACTOR IN SHIP TIME.  
Production time is the time it takes to MAKE the sash(es).  That does not include time in transit. 
Payments made for custom orders are non-refundable.
*If an order for in stock items is placed with the sash order, those items are not due to ship until the sashes ship.  
(If you have both crowns/tiaras/pins/etc and sashes in your cart, we may elect to ship separately if the invoice value of the crowns is high enough.
In this case, your invoice will be marked to reflect that the sashes are to ship separately.)
--If you want to guarantee that your sashes and in stock items will ship separately, please place your order in 2 separate transactions.
This way, you will get your in stock items within 3-6 business days, and your sashes in approx. 3 weeks. (Turn-around time calculation reflects a Priority Mail US shipping option).
ALL CAPS LETTERING
is an "add on". If you submit wording in ALL CAPS, and the ALL CAPS option is not purchased, please note that only the first letter of each word in the title will be capitalized.
**ALL SASHES IN AN ORDER MUST HAVE THE SAME PRODUCTION TIME.  If you need a RUSH on one sash, but the other sashes do not need to be rushed, the order will need to be placed in 2 separate transactions because we will need 2 shipping fees to process the order. 
**Please be sure to check your spelling.  Orders are processed as submitted.  We cannot accept responsibility for spelling errors if the wording is submitted incorrectly on the order form.